Market-leading technology provider, Open GI, has confirmed a new 5-year deal with Islands Insurance Group. The broker, who is part of the NFU Mutual Group, is one of the first to move onto Open GI's new strategic application Mobius – leaving behind SSP's Sector system.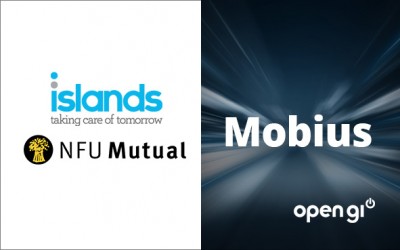 The deal sees 140 users moving to the newly unveiled Mobius proposition from Open GI.
Mobius provides solutions across the spectrum of general insurance entities, whether an MGA, Broker or Insurer, and regardless of the markets or the channels used to trade.
Based in the Channel Islands, Islands Insurance Group specialise in a number of business lines including motor, SME and marine in addition to offering professional support and advice to its clients. The team behind Islands Group have over 40 years' experience providing insurance nationwide.
"We are delighted to be moving over to Open GI; Mobius brings many more new trading opportunities to our business than before. In particular, we are keen as a business to establish a stronger digital trading strategy to meet our client demands. Mobius will certainly help us achieve our future growth aspirations and help our business adapt as the insurance industry landscape continues to change rapidly."
Mark Rothery, Islands Managing Director, explained:
"We looked around at other broker platforms but we chose Open GI because they offered solid expertise and a very impressive technology proposition in Mobius to support our business moving forward."
Mark Rothery, Islands Managing Director, explained:
"I am delighted to be announcing our partnership with Islands Insurance Group – this follows on from our recent unveiling of Mobius, our new and innovative proposition built on the latest technology stack."
Open GI's CEO, Chris Guillaume, further added:
"Islands are one of the first customers to sign-up to Mobius and we look forward to supporting their ambitious growth plans over the coming years."
Open GI's CEO, Chris Guillaume, further added:
Notes to Editors:
Open GI is one of the leading technology partners to the General Insurance industry. Open GI provides a range of configurable insurance software to insurance brokers, underwriting agencies, insurers and MGAs in the UK and Ireland. Its digital insurance solutions, which includes Core and Mobius, provides multi-line, multi-channel, multi-brand trading capability complemented by innovative ecommerce and mobile technologies. Open GI is part of the Open International Group and has 600 staff across offices in Worcester, Dublin, London, Winchester, Milton Keynes, Skopje and Krakow.